Create a wiki page for an historical POI
From Sextant.org
Find the geographic location of your POI
You can find the latitude and longitude of any point by using the iTouchMap service.
Click once on the desired location, and the red place-marker will appear at that point. By clicking on the place marker, the point's latitude and longitude will appear in a bubble above it.
Alternatively, you can drag the marker your Point of Interest. Place your cursor over the red place-marker, hold down your mouse button, and move the marker to your desired Point of Interest. By releasing your mouse button the marker drops into place.
You can also search for a location by entering an address into the Address box at the top of the iTouchMap page. Please note that the geographic locations of street addresses offered by Google Maps can be off by several metres. It is best to manually position the place-marker on a location.
Create an account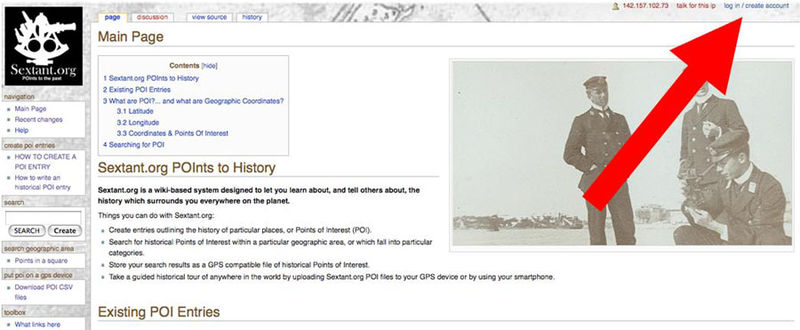 In order to limit wiki page vandalism, only users who have created an account with Sextant.org can create and edit wiki pages. To create an account, just click on the "Log In/Create an account" link at the top-right of any Sextant.org page.
To create an account, you are asked to choose a username and a password. You are also asked to give an e-mail address, to which a confirmation message is automatically sent once you sign up. The message contains a link which you need to click on in order to complete the account creation process.
While you are required to give your name and e-mail address in order to create an account, Sextant.org does not, and will never, disclose this information to other individuals, companies, or organizations. Sextant.org only requires your e-mail address so as to have you complete the account creation process through your e-mail account, and thus prove that you are an actual person and not a maliciously intentioned, automated computer program.
Don't duplicate work. Search to see if entry already exists for the POI.
Your POI could already exist!
While anyone can create a new entry for a specific point, you shouldn't create a new entry for a POI if one already exists.
If an entry for a POI already exists, two different cenarios will likely occur if you try searching for it.
The person who created the entry identified the POI as being in exactly the same place that you would have placed it (i.e. at exactly the same coordinates).
The person who created the entry placed the POI somewhere near where you would have put it (i.e, at different coordinates).
Thoroughly search to see if an entry already exists for your POI
You can search to ensure that the POI you are interested in creating has not already been created in three different ways. It is best to use all three searching methods to guarantee that the POI you want to create has not already been entered into Sextant.org.
Use the search box in the left-hand menu to search by keywords or phrases which would likely be unique to your POI, or by the POI's likely coordinates.
Define a square around your proposed POI's coordinates and see what other POI have been placed nearby. Use the Points in a square function in the left-hand menu to search a square geographic area.
Check the Existing_POI_Entries map on the Main Page to see if POI markers have been placed at or near the point for which you would like to create an entry.
What if an entry already exists for your POI?
You can do one of two things.
a) Edit the existing entry, adding any new information about the history of the POI. Remember, always try to offer references for any historical information you put in an entry.
b) If you thoroughly disagree with the existing coordinates used for the POI, and have evidence indicating that it should be located in another position, you can file a location dispute with Sextant.org. After reviewing your evidence, the Sextant.org editors will decide whether to move the POI or leave it where it is. To file a location dispute, follow the instructions in the Location Dispute section of the Editing Help page.
Creating an entry in 4 easy steps
Now that you have determined that your POI doesn't already exist, you can create it!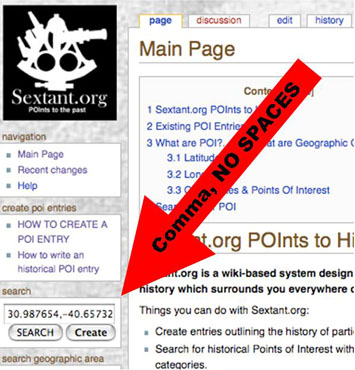 Step #1: You start to create your POI by entering the latitude and longitude for the POI into the left-hand menu search box and clicking on "Create". These coordinates will serve as the title of your entry.

(Ensure that the latitude and longitude are separated by a comma and that there are no blank spaces between them. This is not absolutely necessary, but it is the standardized way of titling your POI wiki page...and it will make it much easier for others to find your entry.)
The reason each POI entry on Sextant.org uses the POI's coordinates as its title is because more than one event may have occurred at any geographic location. To give a POI a single title, reflecting a particular historical event, would mean that the POI's title would not reflect other events which may have occurred there. Being a wiki page, any entry may be updated by other people with additional information about that POI. Thus, while a title may reflect the events which are initially identified as having occurred at that point at the time of the entry's creation, as more information is added to the page, the title may increasingly fail to encompass all of the events which occurred at that point.
But don't despair. Each POI also has a descriptive title which, unlike the page title, can be changed and extended to reflect all of the events which occurred at that location.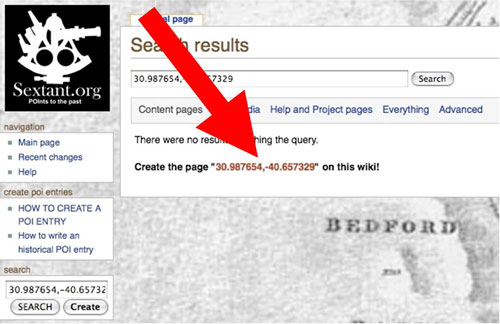 Step #2: At the next screen, which should indicate that a page does not yet exist with your chosen coordinates, click on the red coordinates link.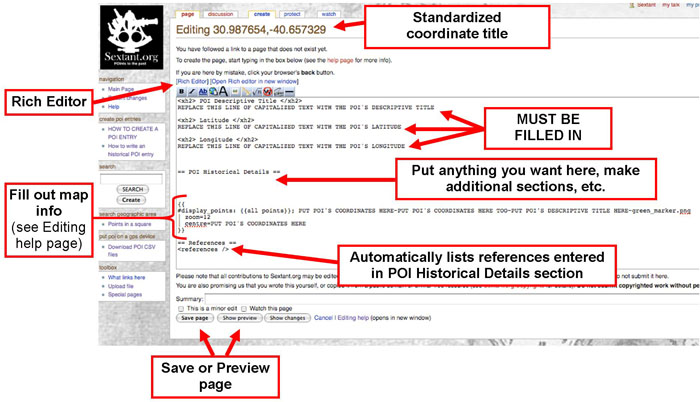 Step #3: Next, a new wiki page with your POI's coordinates appears. The page automatically loads with the Sextant.org page template, including sections for a Descriptive Title, Latitude, Longitude, POI Historical Details, and References.
You MUST enter in a Descriptive Title, which you believe adequately illustrates your POI.
You MUST also enter the point's Latitude and Longitude in their respective fields.
Otherwise, you are free to fill the Historical Details section with whatever historical information you want. You can add sub-sections, pictures, Google maps, etc.
For details on how to format the text and have it look the way you want, or to insert different kinds of media, click on the Editing help link at the bottom of the page.
The references tag (<References>) in the last section will list any references you insert into the text of the POI Historical Details section.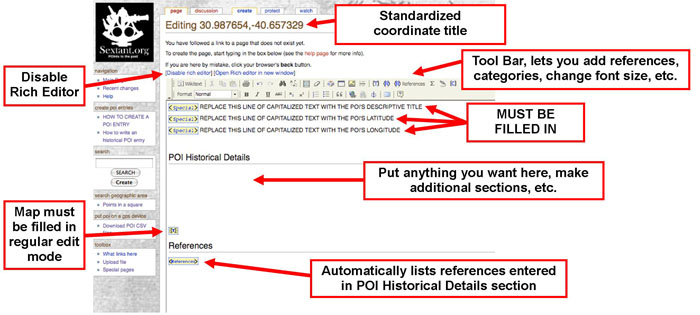 If you wish, you can avoid dealing with "wiki text" (the special code used to format text on wiki pages), by clicking on the Rich Editor link at the top of the page editing box. This will allow you to have the text in the editing page appear as it would on the final version of the page. The Rich Editor also allows you to insert things like references, links, and maps, as well as assign categories, without having to use any kind of special wiki code.

Step #4: When you are done writing your page, you can preview your work using the Show preview button at the bottom of the page. This does not close the editing box, so you can still make adjustments if you wish.

When you have decided you are finished, you click on the Save page button at the bottom of the page.
Remember, you can always edit your page, or a POI entry created by anyone else, by going to the top of the POI's page and clicking on the edit button.