45.403561,-73.95067
From Sextant.org
POI Descriptive Title
Magasin D'Aoust
Latitude
45.403561
Longitude
-73.95067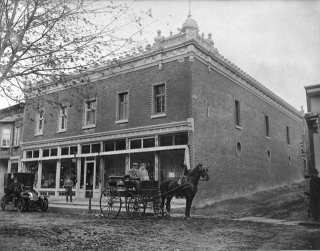 POI Historical Details
This store, located at 73 rue Sainte-Anne, was built according to plans designed by Guisolphe D'Aoust, with the help of architect Dalbé Viau, in 1900. It is constucted in the "boom town" style.[1] M. D'Aoust had previously run a store at the corner of St-Jean-Baptiste and Sainte-Anne. The new store boasted a large brick facade, grand staircases, and four stories in a split-level design.[2] M. D'Aoust's sons, René and Jean-Charles, took over the store from their father, and is currently managed by Guisolphe's grandson, Philippe D'Aoust.

In the early twentieth century, merchandise was sent from Montreal by steamboat and unloaded at the Government Wharf at the bottom of St-Pierre Street. The goods were then carried to the store by cart or sleigh.[3]
The store is famous for its 1924 Lawson conveyor change system, which transports money along an expansive metal track that runs throughout the bulding.[4] The department store carries clothing, housewares, furniture, and seasonal items.
References